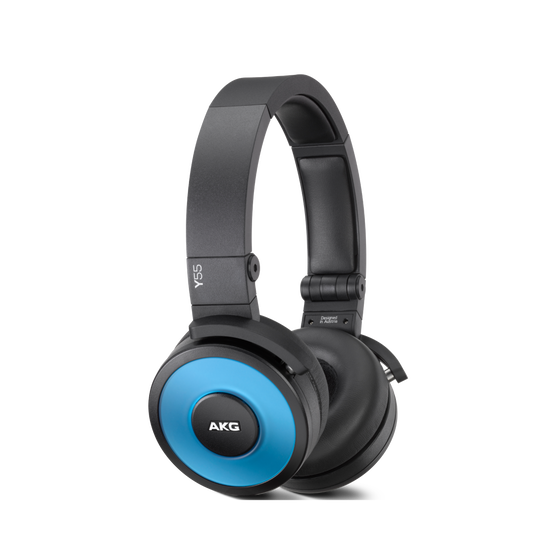 Exceptional AKG Sound In A DJ-ready, professional headphone
AKG-quality sound meets DJ standards in on-the-go functionality and versatility, with lightweight comfort and enhanced user controls.
Roughed & accurate
What goes into a great set of DJ headphones? Listening. AKG engineers listened to what DJs wanted in headphones - portability, durability, comfort and of course, quality - and then set out to make a product that offered all of those characteristics.
AKG signature sound
Nobody knows sound quality and overall accuracy in sound reproduction like AKG and the demands of the job calls for concentrated listening across a wide frequency with enhanced bass response – this is the focus of the Y55 design.
Convenient, single-sided cable
Nothing is more frustrating than a tangled headphone cord. That's why AKG Y55 employs a cable that connects to just one ear-cup. The single-sided cable reduces tangling and allows you keep your mind on the music.
AKG Y55 headphones offer access to AKG-quality sound built to withstand the rigors of an active lifestyle while providing the functionality required to make the job of music-making your entire focus.
Nobody in the house understands the importance of sound performance under like AKG. Enter the AKG Y55 for superior sound quality in a closed-ear design to keep ambient sound at bay while upping the bass response and stretching the frequency response for the best read. Together with further noise-blocking and a snug fit to deliver on comfort, the AKG Y55's provide further enhancements like an inline universal remote/mic, a detachable cable for added freedom of movement and a plug adaptor for extreme versatility. Featuring rotating ear-cups, its solid construction and quality materials add durability and a degree of ruggedness to withstand the heavy demands of an active lifestyle. A fold-down, 3D-Axis design allows for flat storage and safe transport of your Y55's after the show while the availability of four color palettes to choose from – in an acrylic finish – speaks highly of your commitment to combining style with overall showmanship. Built to DJ specs, the new Y55 provides the best sound tools available for the music lover behind the turntable. Soon to be proven indispensible, these Y55's are perfectly synchronized with your needs, while providing you with a superlative sound experience to keep you the best at what you do.